Hi :D
Die Vernissage gestern in der ESG war wirklich schön. Leider haben nicht allzu viele Leute ihren Weg durch die eisige Kälte zu uns gefunden, es waren jedoch ganz viele liebe Freunde da :3
Mein Freund hat ein paar schöne Fotos gemacht, daher will ich gar nicht viel schreiben sondern euch einfach ein paar Impressionen zeigen.
The exhibition opening yesterday was really nice. Sadly not so many people found their way throught the cold to the ESG-Cafeteria but a lot of our lovely friends came :3

My boyfriend took some really nice pictures so I don't want to write too much just show you some impressions.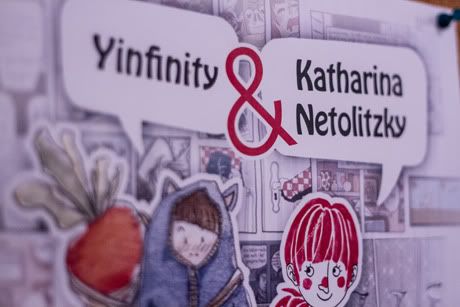 Yi
arbeitet unter dem Künstlernamen "Yinfinity". Ich glaube, sie würde sich sehr freuen, wenn ihr mal bei ihrer
Facebook-Fanpage
vorbeischaut :)
Yi works under the artist's name "Yinfinity". I think, she would be very happy if you had a look at her Facebook-Fanpage ;)
Ich ziehe mal wieder seltsame Fratzen :O
Me making funny faces as always :O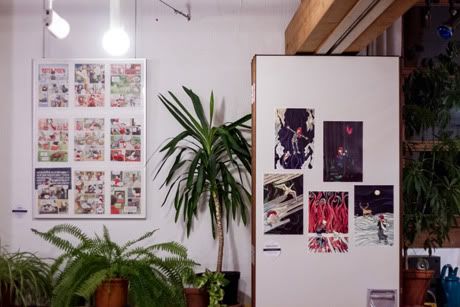 Rechts meine
Finnland-Bilder
, leider nur als Drucke, da ich die Originale fast alle verkauft habe. Links sieht man die Originale von Yis Comicarbeit
"Roter Faden"
.
On the right, you can see my Finland pictures, sadly just prints because I sold most of the originals. On the left are the originals of Yis Comic story "Roter Faden".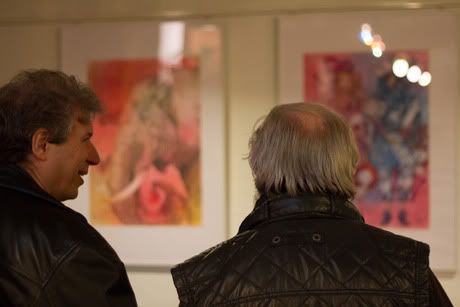 Besucher stehen vor meinen zwei größten Arbeiten. Eine davon ist meine Zeichnung
"Alter Elefant"
.
Visitors in front of two of my biggest pictures. One of them is my "Old Elephant" drawing.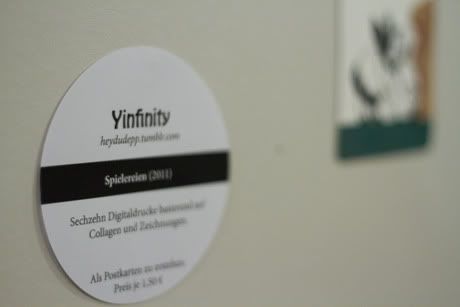 Jede Arbeit ist mit einem Schildchen gekennzeichnet.
Every project is marked with a small sign.
Yis
"Spielereien"
Yi's "Playing around"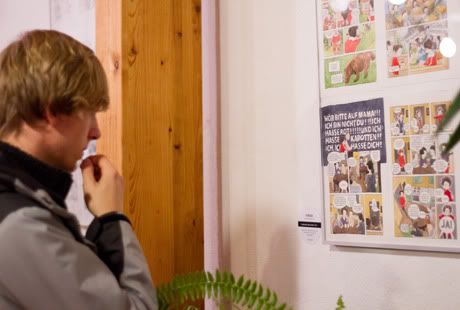 Ein Freund liest Yis Comic.
A friend is reading Yi's Comic.
Leider haben wir vergessen noch einmal ein paar Bilder von den restlichen ausgestellten Arbeiten zu machen. Bei Gelegentheit, werde ich die nachliefern :)
We sadly forgot to take pictures of the remaining exhibited projects but I'll update this post as soon as I have them :)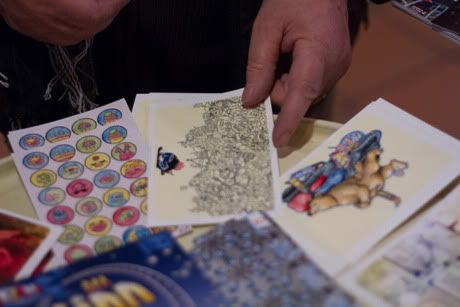 Extra für die Vernissage haben Yi und ich auch neue Postkarten drucken lassen. Wenn ihr Lust habt schaut doch mal in meinem
DaWanda-Shop
vorbei, da habe ich meine übrig gebliebenen online gestellt :D
Yi and I printed some new postcards for the exhibition opening. If you want, you can take a look at my DaWanda-Shop, I put my remaining cards online there :D
Bye bye
Kathi