Jetzt habe ich gerade irgendwie Lust, den ganzen Comic hier hochzuladen ;P Schnell schnell, bevor ich es mir wieder anders überlege. Klick auf's Bild für größer!
I finally feel like uploading the whole comic here ;P But fast before I make up my mind again. Click on the picture for bigger!
Translation of the last page:
1/ "RED is for life and love"
2/ "ORANGE is for health and healing"
3/ "GREEN is for living in harmony with nature"
4/ "YELLOW is for the sun and the light"
5/ "BLUE is for art and creativitiy"
6/ "and VIOLET is for the mind and the thought"
7/ "Together we dream of a world of tolerance, where all mankind has the same rights and freedom, let your true colors shine! Our endless wealth lies in our diversity!"
Und noch zwei Bilder, wie der Comic in der Ausstellung vom Gramic Award in der Markuskirche präsentiert wurde /
and two pictures how the comic ha been presented in the Marcus church for the Gramic award
: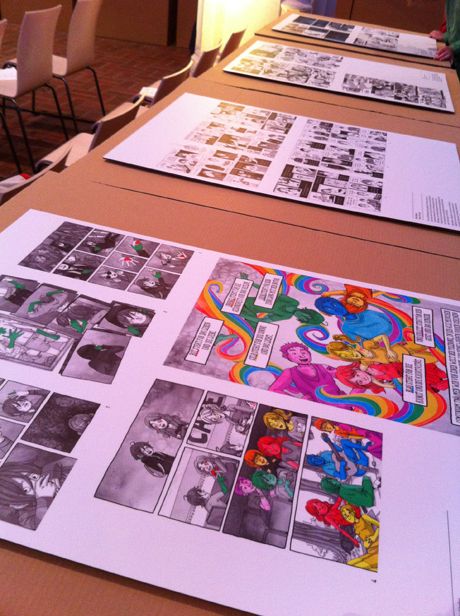 bye bye
Kathi