Hi :)
Last week, I scanned some drawings I did here in Finland in my A5 Moleskine book. Nothing special, nothing serious, just a few small drawings I did the last few weeks when I felt like drawing :D
A woman in her traditional Sami clothing :) I drew this one in the museum because we weren't allowed to take photos but I wanted to have a picture of this colorful clothes.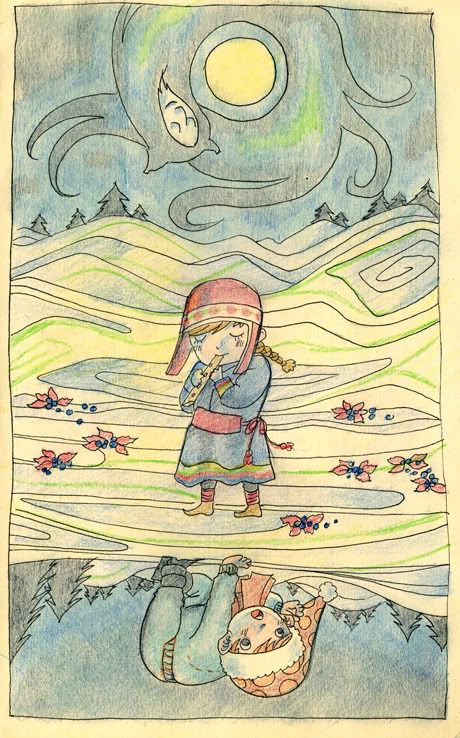 This one was inspired of a legend about the people, who life under the earth. There's a belief here in Lapland, that the people who live there, are the same as we, just that their world is upside down.
This is a drawing of myself being prepared for the chilly temperatures here *laughs*
played a little bit with my drawing style in this one. I drew it some night, when I wasn't able to sleep.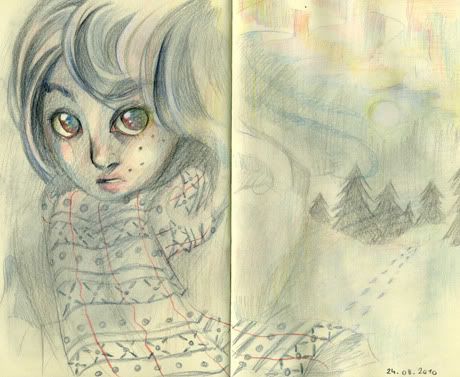 I like this drawing very much. I wanted to create a feeling of being cold and lost but at the same time tried to capture the beauty of the "winter wondeland". Here freckels are form the "big wagon" *lol*
This is still unfinished. Again some kind of selfportrait :)