Huhu :)
Wah... ich bin so aufgeregt. Morgen früh fahre ich mit der lieben
Yi
,
Tine
,
Olga
und Anna nach Bologna auf die Kinderbuchmesse. Die letzten Tage hatte ich wirklich eine Menge Arbeit. In vier Monaten werde ich mit meinem Studium fertig sein, das heißt, diese Messe ist sehr wichtig für mich, wenn ich danach als Illustatorin frei arbeiten möchte. Drückt mir alle Daumen :D
Wah... I'm so exited. Tomorrow morning I will leave for Bologna Children's Book Fair together with my dear Yi, Tine, Olga and Anna. I had a lot of work over the last few days. I'll graduate in four month so this fair is really important to me if I want to work as a free illustrator soon. Please cross your fingers for me :D
Ich möchte euch gerne ein paar der Sachen zeigen, die ich für die Messe vorbereitet habe.
I wanna show you a few things I prepared for the fair.
Erstmal meine neuen Visitenkarten/
first my new business cards
: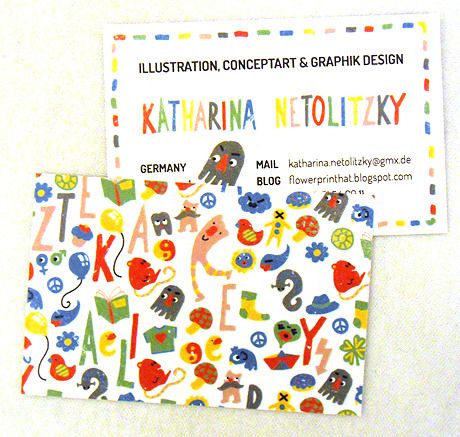 Ich habe ein neues Monsterchen-Muster dafür gemacht/
I made a new critter pattern for them
:
Dann habe ich als Werbematerial nette Lesezeichen mit alten Zeichnungen drucken lassen. Ich bin ganz verknallt in die runden Ecken :D /
I also made nice reading marks from old drawings for commercial purpose. I'm in love with the round corners :D
Auf der Messe gibt es eine offene Wand, auf die man kleben darf, was man will. Dafür habe ich drei kleine Kreaturen gebastelt, die das Verteilen meiner Lesezeichen und Visitenkarten für mich übernehmen wärend ich über die Messe schlendere :) /
There's an open wall at the fair, where you can put whatever you want. I made three critters who will give away my business cards and reading marks for me while I'm walking over the fair :)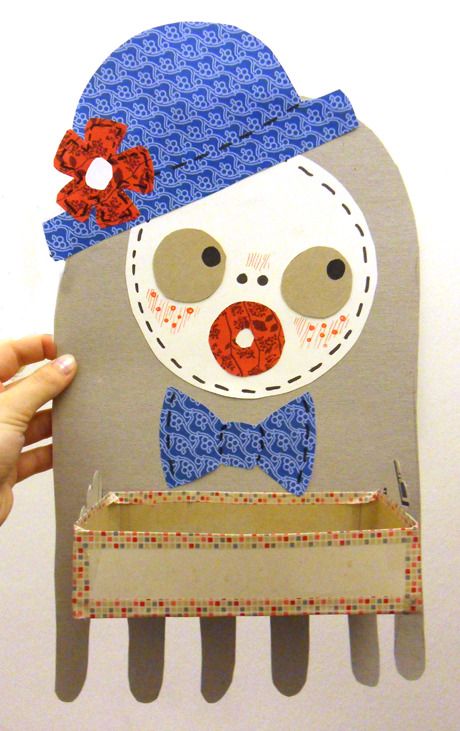 Und zu guter Letzt möchte ich euch einen kleinen Einblick in mein großes Kinderbuch/Comic-Projekt geben. Ich hab momentan einen richtigen Mustertick :) Diese Muster entstand für den Schmutztitel des Buches, es ist zusammengesetzt aus Ausschnitten der bereits fertigen Seiten. /
And last but not least I want to give you a little glimpse at my big children's book/comic project. At the moment I really love to create patterns :) I did this for the inside of the book's cover and backcover, I put together pieces of the already finished pages
:
Puh... das war's erstmal. Bis in ein paar Tagen, dann mit Impressionen von der Messe und der wunderbaren Stadt Bologna. :)
Puh... That's it so far. See you in a few days, then with impressions from the fair and te beautiful coty Bologna. :)
Bye bye
Kathi