Huhu :)
Zeit für was Neues :D seit Anfang Mai bin ich selbstständig als Illustratorin und Grafik Designerin und ich habe glücklicherweise richtig viel Arbeit. Nur zeigen kann ich die Sachen alle noch nicht. Daher war es ein wenig still in diesem Blog. Vor zwei Wochen war ich aber ein paar Tage in London mit einer Freundin und habe ein paar kleine Reisecomic dazu gezeichnet. Viel Spaß beim Lesen :D
Time for something new :D I'm an illustration and graphic design freelancer since the beginning of May and I had plenty of workto do since then - luckily. Sadly I can't show you yet, what I did.So it got a bit quiet in this blog. But I spent a couple of days in London with a friend two weeks ago and drew some small travel comic. Have fun reading :D
Translation: How will the weather be in London? - Saturday: Rain 0%, Sunday: Rain 0%, Monday: rain 0% - Well, I won't belive that till I saw it!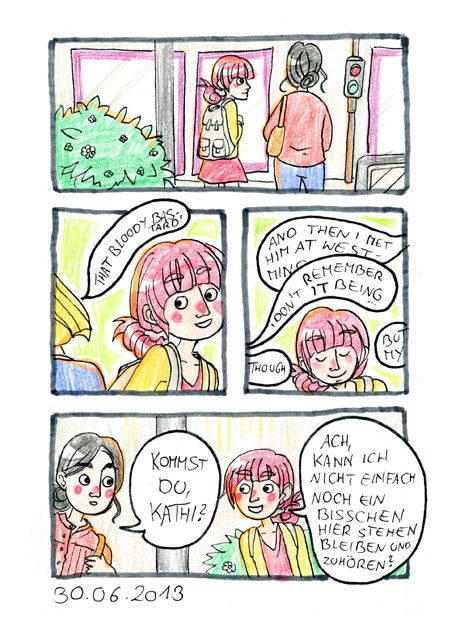 Translation: *in English* that bloody bastard - *more in English* and then I met him at West... I don't remember it being... - Are you coming, Kathi? - Can't I stay here for a little bit longer and just listen?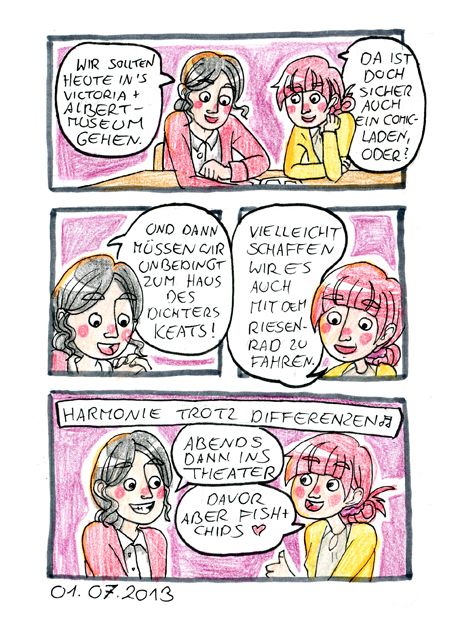 Translation: Today we should go to the Victoria & Albert museum - There's surely also a comic store nearby? - And then we have to visit the house of the poet Keats! - Maybe we will also have time to take a ride with the ferris wheel? - Harmony despite defferences - And in the evening to the theatre! - And before that Fish & Chips!
Translation:I am thirsty- And my feet hurt, too. - I would also love to eat something now. - And I'm tiered as well - Where does Lisa get all her energy from? - Ok! What are we doing next?
Translation: So... we have only 15 minutes to change, then we have to leave for the theatre. - Maybe three mueums a day was a little bit too much... - Maybe. - 15 minutes later - And back to our programm. - Yay - Ready for a night out!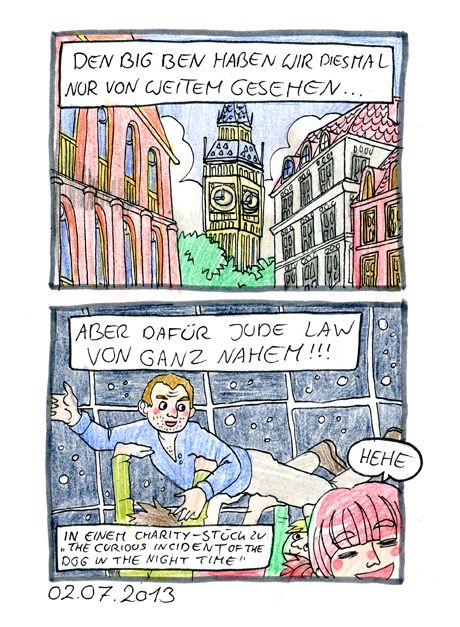 Translation: We only saw the Big Ben from far away this time. - But instead Jude Law from very close. - (In a charity piece to "the curious incident of the dog in th enight time".) - hehe!
Translation: Damn. Because of all the comicbooks is my suitcase now overweight. - I don't have a choice. - Time for onion style! - So hot!!! - T-Shirt, Dress and Scarf - 3 Jackets - Trouers and tights.
Bye bye
Kathi