Halli Hallo :D
ich schon wieder ;) Und tatsächlich schon wieder mit einem Comic!
Ich bin ein bisschen süchtig nach Wettbewerben also musste ich natürlich auch bei dem "Fußball-Comic des Jahres"-WB mittmachen (auch wenn ich mit Fußball nicht am Hut habe...).Wettbewerbe sind für mich immer ein schöner Motivationsboost mal wieder ein Comicprojekt anzupacken.
Me again ;) and again with a comic project! I'm a bit addicted to competitions though I also had to participate in the "occer-comic of the year"-competition (although I know nothing about soccer). Competitions are always a nice motivation boost for me to tackel another comic project.
Da mir das Thema persönlich nicht so lag, habe ich meinen Großvater gebeten, von dem ich wusste, dass er Fußball über alles liebt, ein paar Geschichten aus seiner Kindheit zu erzählen. Fast alles was in diesem Comic passiert, ist also wahr, nur die Chronologie der Ereignisse habe ich verändert, um das Ganze auf eine Seite quetschen zu können.
Because I personally don't like the ubject too much did I ask my grandfather, from who I knew, that he always loved soccer, to tell me some storys from his childhood. Almost everything that happens in this comic is true just the chronology of the happanings is changed, to get everything on one page.
Lange Rede, Kurzer Sinn. Hier könnt ihr den Comic lesen. Über die ein oder andere positive Bewertung würde ich mich natürlich sehr freuen :)
To make the long story short: Here you can read the comic. I would be very happy for some positive ratings though :)
Und um diesen Blogpost hier noch ein bisschen dekorativer zu gestalten, ein paar Ausschnitte aus dem Comic / To make this blog entry a bit more decorative are here a couple of close ups from the comic:
Das fertige Panel / The final panel.
So sah es noch in der Layoutphase aus / That's how it looked in my layout.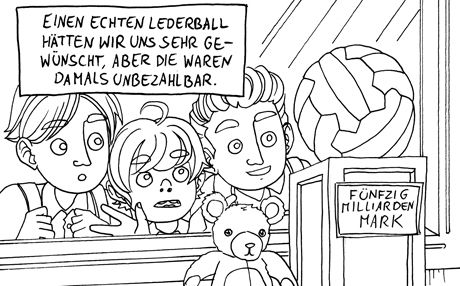 Und das Lineart / And the lineart.
Für das zerstörte Regensburg hatte ich natürlich eine Referenz / For the destroyed Regensburg did I have a reference, of course.
Coloriert habe ich in Photoshop und Paint Tool Sai / I colored it on Photohop and paint Tool Sai.
Bye bye
Kathi