Hallo hallo :D
mein Blog wird mal wieder sträflichst vernachlässigt. Schande über mein Haupt. Ich pflege gerade einfach zu viele soziale Netzwerke gleichzeitig... irgendwie muss ich mir ein besseres System zulegen, oder das ein oder andere Netzwerk rausschmeißen. Aber keine Sorge, dieser Blog bleibt auf jeden Fall.
I denied my blog again. Shame on my head. I try to keep too many social networks running at the same time... I need to work on my sytem somehow or get rid of one or the other of them. But don't be afraid, this blog will definitely stay.
Bei mir hat sich in letzer Zeit einiges getan. Gerade bin ich in eine neue (billigere) Bürogemeinschaft gezogen und versuche weiterhin, als selbstständige Illustratorin und Grafik Designerin mein Brot zu verdienen. Und ich habe mein erstes (kommerzielles) Buch illustrieren dürfen *freu*
A lot happened over the last few months. I just moved in a new (cheaper) shared workspace and still try to earn my money as an freelance illustrator and graphic designer. I and illustrated my first (commercial) book *happy*
"FATUM #1 - der geheimnisvolle Pfad" ist ein Kinder-Fantasy E-Book von der Autorin Maya Gee Lav. Ich durfte die Illustrationen dafür beisteuern. Insgesamt sind es 15, 14 davon in Graustufen und eine farbig. Es hat sehr viel Spaß gemacht, an diesem Projekt zu arbeiten und es wäre wirklich toll, wenn ich mehr in diese Richtung machen könnte. Aber wer weiß... die Autorin hat zumindest schon mal mehrere Bände geplant :)
"FATUM #1 - the mysterious path" is a children's fantasy e-novel by author Maya Gee Lav. I did the illustrations for it. Ther are 15 all in all, one colored for the cover and 14 in greyscale. It was so much fun to work on this project and it would be so good if I could do more like this... at least the author planned to write more books of this series so who knows. Sadly the book is only aviable in German at the moment.
Hier ist das (leider nur digitale) Cover des Buches /
here's the (sadly only digital) cover of the book
:
Alle 15 Illustrationen findet ihr /
you can find all 15 illustrations
:
- auf der
FATUM-Website
/
on the FATUM-Website
- auf der
FATUM-Facebook-page
/
on the FATUM-Facebook-Seite
- oder auf meiner eigenen
Homepage
/
or on my own Homepage.
Falls es euch interessiert, hier noch ein Making Of einer der Illustrationen:
If you're interested, here's a making of of one of the illustrations:
Erst ein grobes Scribbel für die Autorin, damit sie entscheiden kann, ob alles auf der Illu drauf ist, das sie haben möchte /
first a rough scribbel for the author so she can decide, if everything is on the illustration she wants to have on it
: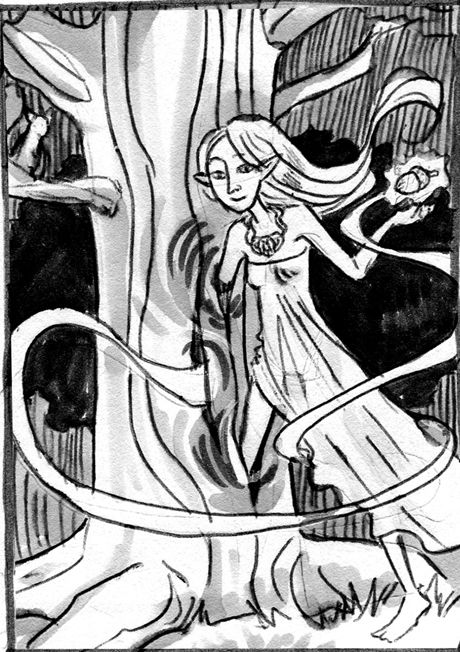 Dann eine Vorzeichnung, die ebenfalls nochmal an die Autorin ging, nur um sicher zu gehen /
Then the pencil drawing which will be sent to the author again, just to be sure she likes it
:
Und dann das Lineart mit Fineliner /
then the lineart with multiliners
:
Die finalen Graustufen habe ich übrigen mit Paint Tool Sai gemacht. Mein erstes großes Projekt damit! Hat sehr viel Spaß gemacht. Ich benutze es zwar ein bisschen wie ein Mal-Plugin für Photoshop (Flächen ausmalen und finale Effekte hinzufügen passieren da) /
The final greycales have been done with Paint Tool Sai. My first big project with this programm! It was a lot of fun. I use the programm like a painting plugin for Photoshop (Flats and final effecs are still happening there)
:
Ich hoffe, dieses Projekt gefällt euch /
I hope, you like this project
.
Bye bye
Kathi