Nachdem ich in meinem
letzten
Blogeintrag von dem Workshop in Berlin erzählt habe, muss ich natürlich auch gleich einen Eintrag über den 24h-Comictag in Leipzig hinterherschieben :D
Since I told you about the workshop in Berlin in the last post, I want to tell you about the 24h-Comicday in leipzig in this entry.
Falls jemand nicht genau weiß, um was es ich bei dem 24h-Comictag überhaupt handelt, hier eine kleine Definition:
If someone doesn't know, what the 24h-Comicday is, here a small definition:
"24-Hour Comics Day is an event held around the world which challenges writers and artists to create a full 24-page comic in 24 consecutive hours. Thousands of artists take the 24-Hour Comics Day Challenge every year!"
http://www.24hourcomicsday.com/
Die letzten zwei Male war ich in Weimar, diesmal ging es für mich nach Leipzig in eine unglaublich gemütliche alte Wassermühle. (
1. Mal Weimar
-
2. Mal Weimar
)
I went to Weimar the last two times, this time, it happened in Leipzig in an uncredibly comfy old watermill. (1st time in Weimar - 2nd time in Weimar)
Dabei waren dieses Jahr //
the participants this year were
:
-
Sarah Stowasser
-
Lara Rudolf
- Chrissi Schmitt ->
sadbutawesome
- Dimitar Stoykow ->
Metrissimo
-
Hillerkiller
- Jeff Chi ->
Spinken&Turmina
-
Doppeltim
-
Pete
-
Jaroo
- und ich //
and me
;)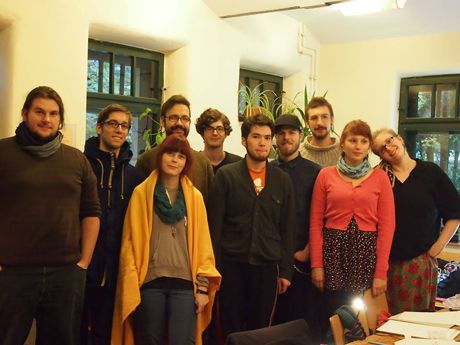 Picture by Jaroo :)
Mir war von Anfang an klar, dass ich diesmal beim Comictag scheitern würde, denn ich hatte vor, die Chance zu nutzten und mit einem Comicprojekt anzufangen, dass schon eine ganze Weile bei mir in der Schublade lag. Eigentlich darf man sich zum 24h-Comictag nicht vorbereiten und keine Story mitbringen, dich ich hatte sogar schon die erste Seite bereits gelayoutet und die Charakterdesigns gemacht, um mir den Einstieg zu erleichtern. Daher ist das, was in Leipzig enstanden ist, keine echter 24h-Comic. Aber ich bin trotzdem sehr glücklich, dass ich da war und es mal wieder durchgestanden habe ;D
It was already clear for me that I would fail during this comicday before I even started, since I decided to take the chance and to start a comicproject, I already wanted to get out of my drawer for a while.You actually shouldn't prepare for the 24h-Comicday and bring a story with you and I even layouted the first page and made character designs, to make it easier for me to start into the project. So wat I did in Leipzig is very far away from areal 24h-Comic. But I'm glad nevertheless thet I was there and made it through ;D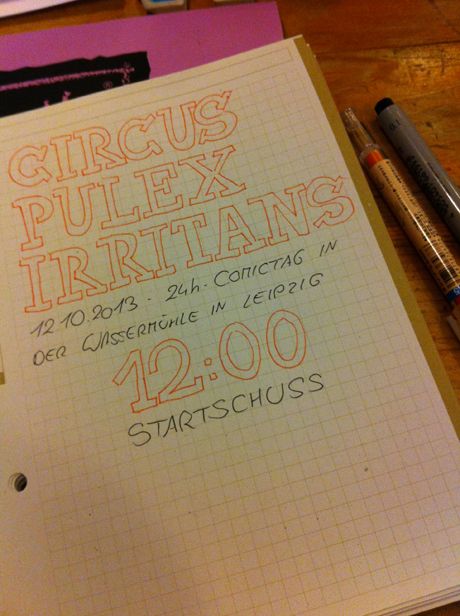 13:20 Uhr:
0,5 von 24 Seiten geschafft. Schon hier war mir klar, das das mit den 24 Seiten nichts wird *lol* //
0,5 of 24 pages done. It was already pretty clear here, that I would never finish 24 pages *lol*
14:07 Uhr:
1 von 24 Seiten geschafft. Verdammt... muss.... schneller.... werden! //
1 of 24 pages done. Damn.... need.... to..... be...... faster!
15:10 Uhr:
1,5 von 24 Seiten. //
1,5 of 24 pages done.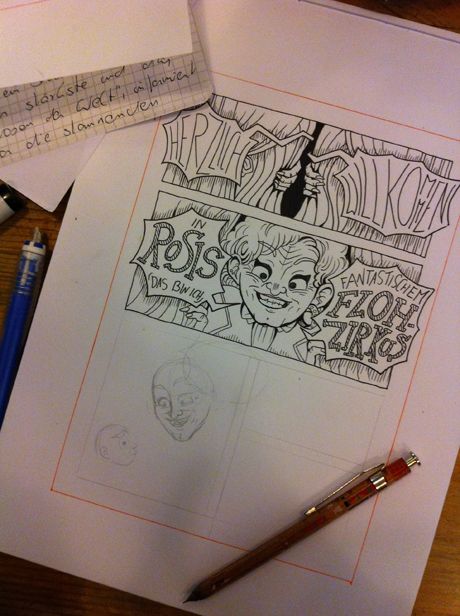 16:30 Uhr:
2,5 von 24 Seiten. //
2,5 of 24 pages done.
17:50 Uhr:
3 von 24 Seiten. Hihi... meine Lieblingsseite. //
3 of 24 pages done. Hihi.... my favorite page.
18:00 - 18:30 Uhr:
Einkaufspause. Ich hatte zwar davor eingekauft, aber zu diesem Zeitpunkt schon fast alles wieder weggefuttert, was ich mitgebracht habe :O //
Shopping break. I actually bought food before I came to the event but I already ate most of it at this point :O
19:01 Uhr:
3 und ein Bisschen von 24 Seiten. Zeit zum Abendessen. //
3 and a bit of 24 pages done. Time for dinner.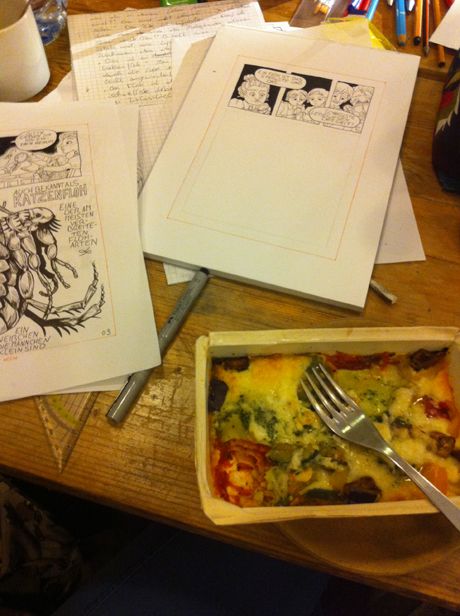 20:30 Uhr:
4 von 24 Seiten. OK..... einfach bedächtig weitermachen, das wird schon. //
4 of 24 pages done. OK.... just slowly continue to work then it will be allright
21:58 Uhr:
5 von 24 Seiten. //
5 of 24 pages done.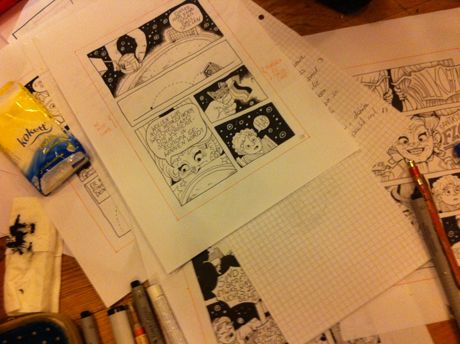 23:17 Uhr:
5,5 von 24 Seiten. //
5,5 of 24 pages done.
23:50 Uhr:
6 von 24 Seiten. Wahahah... fast Halbzeit! //
6 of 24 pages done. Wahahah.... almost half time.
02:15 Uhr:
7 von 24 Seiten. Hier habe ich mir einen kleinen Stehpult in der Küche aus einem Pizzakarton gebastelt, da ich vom langen Sitzen Bauchschmerzen bekommen habe. An dem hab ich dann zwei Seiten gezeichnet, bis ich vor Müdigkeit angefangen habe zu schwanken *lol* //
7 of 24 pages done. I built a standing table out of a pizza carton in the kitchen because I got a bad stomachache from sitting so long. I drew two pages there untill I couldn't stand anymore because I got so tired.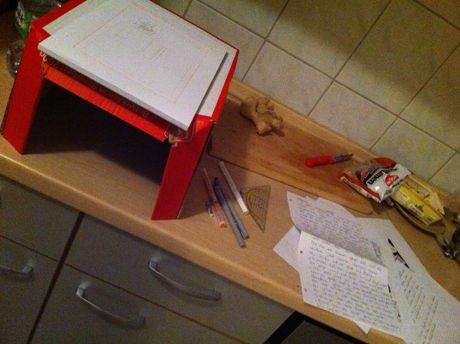 04:24 Uhr:
8 von 24 Seiten. Kurz vor diesem Foto hatte die Müdigkeit gewonne und ich habe ca. 20 Minuten mit dem Kopf auf dem Tisch geschlafen *lol* //
8 of 24 pages done. The sleepiness won. I slept for around 20 minutes with my head on the desk just before I took this picture.
06:11 Uhr:
9 von 24 Seiten. Hilfe, die ersten von den Anderen sind ja schon fast fertig mit ihren 24 Seiten :O //
9 of 24 pages done. Help, some of the others are already almost done with their 24 pages :O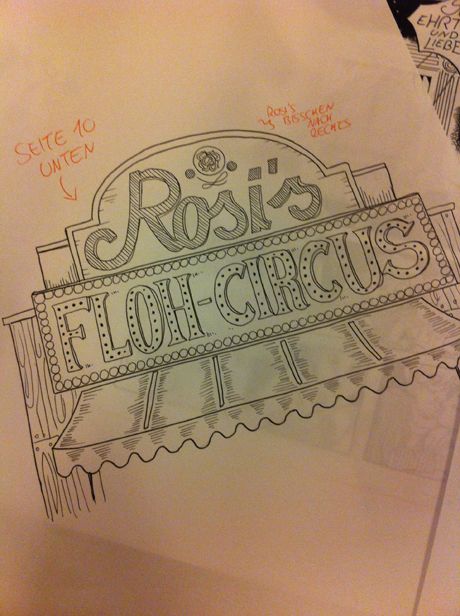 07:46 Uhr:
10 von 24 Seiten. Juhu, immerhin habe ich es bis zu einer zweistelligen Zahl an Seiten geschafft :) //
10 of 24 pages done. Yay, at least I got to a two digit numer with my page count :)
08:00 Uhr:
Noch zu früh, aber hier war dann für mich Schluss. Da schon fast alle fertig waren (Respekt, wie zur Hölle macht ihr das), begannt sich alles aufzulösen und der erste Schwung Leute machte sich vom Acker. Ein paar, die so gut wie fertig waren, haben noch weitergezeichnet, aber bei mir war es vorbei mit der Konzentration. //
Still far too early but here it was over for me. Since almot all of the others were already done (repect, how on hell dod you do that) the group began to drift apart and the first couple of people left. A few, who were almost done did still continue to draw, but I couldn't concentrate any more.
Alles in allem bin ich diesmal also episch gescheitert beim 24h Tag :( am Anfang geschummelt und die Story mitgebracht, nur 10 Seiten geschafft und auch noch 4 Stunden zu früh aufgehört. Trotzdem bin ich sehr zufrieden, denn die 10 Seiten, die ich geschafft habe, können sich wirklich sehen lassen ;P
So overall you could say, that I epicly failed at the 24h-Comicday :( I cheated in the beginning and brought the story with me, I only finished 10 pages and I stopped 4 hours too early. But I am stil happy with myself, because the 10 pages I did are the quality I want them to be ;P
Sie stellen den Anfang einer längeren Comicgeschichte dar, von der ich ich euch nun auch schon die erste fertige Seite zeigen kann.
They are the beginning of a longer comicstory and I can already show you the first finished page.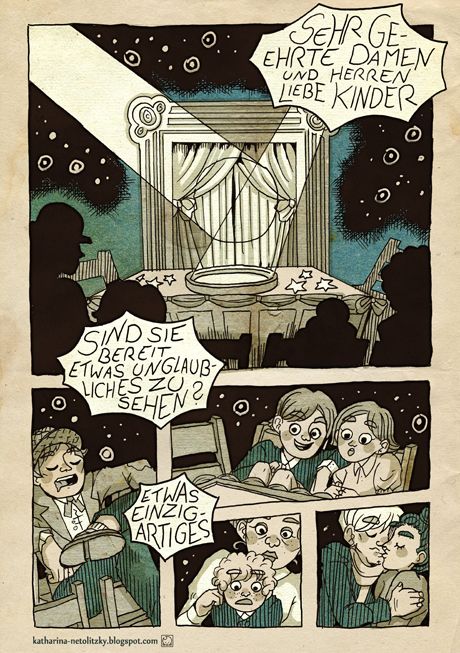 Alles weitere über diesen Comic erzähle ich euch dann im nächsten Blogpost :D
Eveyrthing else I can tell you about my new comic will I put into the next blog post :D
Bye bye
Kathi