Uaaahhh.... ist das schon wieder lange her, dass ich den
ersten Teil zu "Evolution of a Webcomic"
geschrieben hatte. Dabei hatte ich so nettes Feedback von euch dazu bekommen. Dankeschön nochmal dafür! Allerhöchste Zeit, den zweiten Teil zu schreiben :)
Uaaaaah.... it has really been quite a while that I wrote the first part of "Evolution of a Webcomic" here. I even got so great feedback from you guys to the last part. Thank you very much for that! So it's definitely more then time to write the second part :)
Diesmal möchte ich euch erzählen, wie eine CiPI (das ist jetzt übrigens die "offizielle" Abkürzung für
"Circus Pulex Irritans"
)-Comicseite entsteht.
This time I want to tell you, how a CiPI
(this is by the way the "official" abbrevation for "Circus Pulex Irritans" now)-comic page evolves.
Gleich vorne weg: Meine Methode ist nicht wirklich zur Nachahmung geeignet ;P Da ich ja Vollzeit arbeite und auch noch pendel, entsehen die meisten CiPI-Seiten auf meinem Schoß im Zug zwischen München und Augsburg. Ich bilde mir ja ein, das ganze Gewackel tut meinem Strich gut ;P Und ich kann so die Zeit im Zug nutzten, mit CiPI langsam aber stetig voranzukommen :)
Before I start: My method is not really suited to be copied ;P since I work full time and have to take the train every day, I draw my CiPI-pages on my lap between the cities Augsburg and Munich. I actually have the feeling that all the shakes are good for my lines ;P And I can use the time in the train to make slow but consistant progress with CiPI :)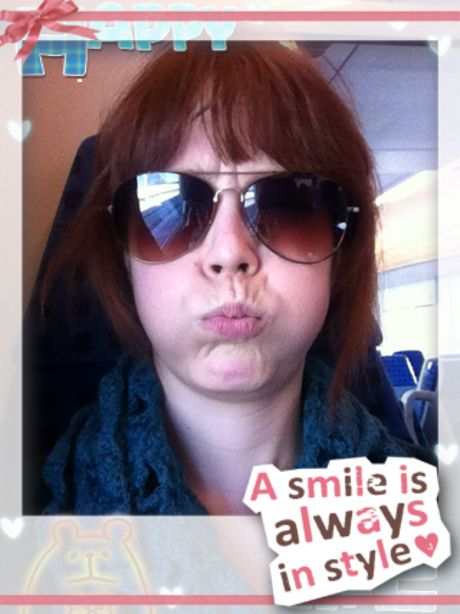 Für meine Kurzgeschichten erstelle ich normalerweise immer, sobald ich die Geschichte habe und bevor ich mit den richtigen Seiten anfange, ein Miniatur-Seitenlayout für den gesamten Comic. Bei CiPI gehe ich da viel lockerer vor und überlege mir vorher nur anhand meines geschriebenen Scripts, was in dem nächsten Kapitel passieren soll. Dann zeichne ich einfach Seite für Seite. Die profesionellere Methode wäre es natürlich, erst einmal ebenfalls ein Seitenlayout (zumindest kapitelweise) zu machen, aber da genau das für mich immer das nervigste am Comiczeichnen ist, habe ich beschlossen, auf mein Glück zu setzten und einfach loszuzeichnen.... ich hoffe, das werde ich am Schluss nicht bereuen ;P
I usually develope at first,
as soon as I have the storyline and before I start with the real pages, for every one of my short stories a miniature layout of the pages for the whole comic. With CiPI I work much looser and just think about what part of my written script should be in the next chapter. Then I draw page after page. The more professional way would of course be to make a small layout (at least for each chapter) before I start with drawing, but since this is the most annoying part of comic drawing for me, I decided to leave it here, gamble on my luck and just start drawing..... I really hope, I won't regret this in the end ;P
Skizzieren im Zug ist nicht so schlimm.//
Sketching in the train is not so bad.
Da habe ich noch mit normalem Bleistift vorgezeichnet. Mittlerweile benutze ich einen Druckbleistift mit hellblauer Mienen. Den muss ich praktischerweise nicht wegradieren, sondern kann die Farbe nach dem Tuschen und Scannen in Photoshop löschen. //
Here I still sketched with a normal pencil. Meanwhile I use a mechanical pen with light blue leads. I don't have to erase the new one, which is handy. I can just delete the color in Photoshop after I inked and scanned the page.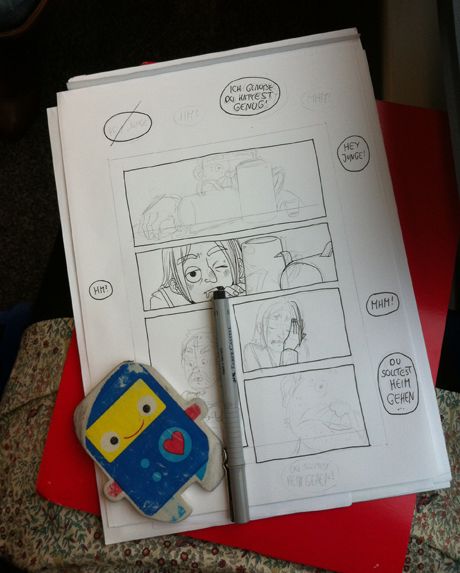 Jetzt beginnt der Teil, der im Zug eher nervig ist, das "tuschen". Ich tusche nicht wirklich sondern benutze schwarze Multiliner in verschiedenen Stärken. Hier auf dieser Seite habe ich die Sprechblasen ausnahmsweise extra gezeichnet, um den Panels später digital einen besonderen Effekt geben zu können. Normalerweise platziere ich sie gleich in den Panels. //
Now begins the part which is quite annoying doing it in the train: The "inking". I don't really use ink here but a couple of black pens in differenz sizes.
By the way, on this page I drew the speech balloons for once on the sides of the page since I planned to give the panels a special effect later digitally. Usually I just put them in the panels and don't draw them seperately.
Ein Close Up. Ja! Das hab ich im Zug gezeichnet. Keine Ahnung, wie ich es schaffe, bei dem ganzen Gewackel gerade Linien zu zeichnen..... irgendwie geht das einfach. Vielleicht ist das meine Superkraft? //
A Close Up. Yes" I drew that in the train. I have no idea, how I manage to draw clean lines while everything around me bounces and shakes... it somehow works. Maybe this is my super power?
Wenn ich die Grundlinien gezogen habe, geht es an die Details, Schwarzflächen und Schraffuren. Dafür benutze ich einen tollen Tuschestift von Pentel mit Pinselspitze, einen schwarzen Copic, ebenfalls mit Pinselspitze, und einen weißen Edding zum Ausbessern und für Effekte. Die Schraffuren mache ich mit einem 0,1mm Multiliner. //
When I finished the basic lines I start with the details, the black plains and the hatching. I use an awesome ink pencil by Pentel with a brush tip, a black Copic also with a brush tip and a white Edding for getting rid of mistakes and the special effects. I do the hatching with a 0,1mm pen.
Hier mal das Lineart zu der neusten CiPI-Seite. Die war schon sehr aufwändig auf Grund der vielen Schwarzflächen und Schraffuren. //
Here's the lineart to the newest CiPI-page. This one was quite time consuming because of all the back plains and the hatching.
Und noch ein letztes Close Up auf dem man gut sehen kann, dass ich die ganzen Augen und Viecher, die bei CiPI in der Dunkelheit unterwegs sind, mit dem weißen Lackstift einfach in die schwarzen Flächen zeichne :) //
And one last close up where you can see, that I just draw all the eyes and creatures which hover around in the darkness of CiPI with a white paint stick on top of the black plains.
_.;:+*'`'*+:;..;:+*'`'*+:;.
♥ .;:+*'`'*+:;..;:+*'`'*+:;._
So... dass war es für heute. In Teil drei von meinem Making Of zu
"Circus Pulex Irritans"
werde ich dann was zu der digitalen Nachbearbeitung der Seiten und vor allem zu den Texturen und der Farbigkeit erzählen. Ich glaube, das interessiert doch einige, oder?
Ich versuche auch, euch nicht wieder so lange warten zu lassen *sorry*
Allright... this is it for today. In part three of my Making Of to "Circus Pulex Irritans" I will tell you something about the digital postproducion of the pages and also about the textures and the coloring I use. I think, this might be especially interesting for some of you, isn't it?
I will definitely try to not make you wait that long again *sorry*
Bye bye
Kathi