Huhu :D
ein neues Jahr hat angefangen. Die beste Zeit, um das alte Jahr noch ein letztes Mal Revue passieren zu lassen und dann mit frischen Geist in's Neue zu starten, wie ich finde :) Mit diesem Post starte ich die neue Kategorie "inside stories" hier in meinem Blog, in der ich ab und an einfach mal aus dem Nähkästchen plaudern möchte.
A new year just started. I think, it's the best time to review the old one one last time and to start in the new one then with a fresh mind :) I start a new category in my blog with this post called "inside stories" to tell you once in a while what't I'm thinking about.
Ich weiß, viele halten es für albern, doch ich denke gerne am letzten Tag des alten Jahres über meine guten Vorsätze für das Neue nach. Diesmal habe ich sie sogar in gezeichneter Form festgehalten :)
I know, plenty of people think it's silly, but I like to think of some good New Year's resolutions for myself over the last couple of days of the old year. This time I even made note of them in a drawn form :) (But just in German. Sorry.)
Auf DeviantArt.com habe ich ein nettes kleines
Meme
gefunden, das ich für mich mal ausgefüllt habe.
I found a nice little meme on DeviantArt.com which I filled out for myself.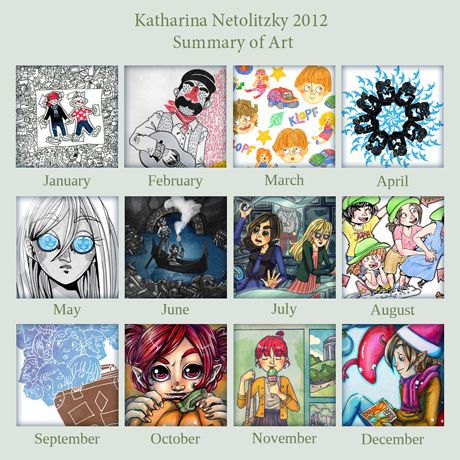 Mein Jahresrückblick auf 2012
My summary of the year 2012
Im
Januar
habe ich an meiner
Kurzgeschichte
für das "Sinn des Lebens"-Sonderheft von JAZAM! gearbeitet. Für mich ein ganz besonderes Projekt. Mein Vater war zwei Monate zuvor nach langer Krankheit gestorben und der Comic war eine Möglichkeit für mich, mich mit der Situation auseinanderzusetzen. Er fehlt mir immer noch sehr.
In January I finished my short story for the "meaning of life"-special edition of JAZAM!. It was a really important project for me because my father died two month ago and this little comic story was a good way for me to deal with my feelings. I still miss him a lot though.
Im
Februar
hieß es mein 7. Semester an der HS-Augsburg anständig abzuschließen. In Illustration habe ich einige schöne Projekte bearbeitet, unter anderem die
Balkannight-Flyer,
den
Coverentwurf
für Strichnin 4 und meine
Mori Girl Siebdrucke
.
In Febuary I needed to finish my 7th semester at the University of Applied Sciences Augsburg properly. I had to work on some nice projects for my illustration class for example the Balkannight-Flyer, the cover proposition for Strichnin 4 and my Mori Girl Screenprints.
Im
März
hieß das große Reiseziel
Bologna-Kinderbuchmesse
. Ich hab mich lange darauf vorbereitet, ein neues Projekt angefangen, mein Portfolio überarbeitet und viele nette Sachen gebastelt. Neben all dem Geschäftlichen war es jedoch hauptsächlich ein wunderbarer Urlaub mit meinen Mädels.
The big travelling goal in March was the Bologna Children's Bookfair. I prepaired a lot of stuff, started a new project, worked on my portfolio and tinkered a lot of nice things. But beside all the busines stuff it was mostly a great vacation with my girls.
Im
April
hätte ich bereits fleißig an meiner Bachelorarbeit ackern sollen, ich hab mich jedoch erstmal mit ein paar kleineren Projekten beschäftigt z.B. einem kleinen Comic für
JAZAM! #7
und einem
Siebdruckprojekt
.
I should have already started working full time on my bachelor project in April, but I got busy with some smaller projects for example a little comic story for JAZAM! #7 and a screen printing project.
Mai/Juni/Juli
gingen mehr oder weniger komplett für meine Bachelorarbeit drauf. Tatsächlich habe ich fast nichts mehr gemacht außer daran zu arbeiten, zu essen und zu schlafen.
Ein paar Highlights gab es natürlich trotzdem:
- Im
Mai
die Releaseparty von
Strichnin #4
, für das ich einiges beisteuern durfte.
- Im
Juni
natürlich der Comicsalon in Erlangen, der einfach wunderbar war!
- Und im
Juli
die Werkschau bei der ich meine Bachelorarbeit ausgestellt habe und wir uns nach all den Monaten harter Arbeit endlich einmal antändig feiern konnten.
Mai/June/July have been almost completely dedicated to my bachelor project. I didn't do anything but working on it, eating and sleeping.
But there were some other highlights as well:
- The releaseparty for Strichnin#4, I participated in, has been in Mai.
- In June was the Comicsalon in Erlangen which was just wonderful.
- And in July was the "Werkschau" where I exhibited my bachelor project and where we finally were able to celebrate ourselfs properly after all the months of hard work.
Im
August
hieß es erstmal die neugewonnene Freiheit zu genießen! Ich kann es immer noch nicht ganz glauben, dass ich Anfang August tatsächlich den ersten Platz beim
Comicwettbewerb der Mohrvilla
in München holen konnte. Eine Geldspritze, die ich gut brauchen konnte, denn mit meinen lieben WG-Mädels bin ich für drei Wochen nach
China
geflogen.
In decided to enjoy my newly won freedom in August properly! I still can't believe that, in the beginning of August, I won the first price at the comic competition of the Mohrvilla in Munich. I could really use the money because one week later I left with my dear flatemates for a three weeks trip to China
.
Im
September
begann wieder der Ernst des Lebens. Ich begann die ersten kleinen Freelancer-Job anzunehmen, um mich über Wasser zu halten z.B. für die Zeitschrift
Presstige
, die
ESG
der Uni Augsburg und die
Rot-Kreuz-Lädle
. Außerdem begann ich an meiner
Website
zu arbeiten.
In September the serious side of life began again. I started to do small freelancer jobs to get by for example for the magazine Presstige, the ESG of the University in Augsburg, and the Red Cross stores. I also began to work on my website.
Der
Oktober
war ziemlich ruhig. Ich habe meine
Website
fertig gemacht, an meinem
DaWanda-Shop
gearbeitet und mit der lieben Yi zusammen eine kleine
Ausstellung
organisiert. Auch habe ich beim 24h-Zeichentag in Weimar teilgenommen, während dem ich leider krank geworden bin. Ein paar Seiten
China-Comicstrips
habe ich trotzdem geschafft! Richtig kreativ in's Zeug gelegt habe ich mich auch für
Halloween
.
October was quite quiet. I finished my website, worked on my DaWanda-Shop and organised an exhibition with my dear Yi. I also participated in the 24h Comic Day in Weimar although I got ill on the halfway. I still were able to finish a couple of China-Comicstrips. I also got really creative for Halloween.
Im
November
konnte ich endlich meinen neuen Job antreten. Seit dem 5.11. bin in der Umschlagabteilung des dtv in München. Das heißt: Jeden Tag zwischen München und Augsburg pendeln und 9 Stunden arbeiten. Wirklich viel Zeit für eigene Sachen habe ich seitdem leider nicht mehr, aber da die Arbeit im dtv mir wirklich sehr viel Spaß macht ist das völlig in Ordnung! Im November erschien übrigens der
"Fuck Yeah!"-Comickalender
für den ich etwas beisteuern durfte.
In November I could finally start my new job at the cover design department of the the publisher dtv in Munich.That means: Every day I commute between Augsburg and Munich and work 9 hours. I sadly don't have much time left for my own things but that's not so bad because I really enjoy the work at the dtv! By the way, the "Fuck Yeah!"-Comic calendar I participated in has been published in November as well.
Im
Dezember
war ich komplett von meiner Arbeit für den dtv eingenommen. Nur ein Bild ist in dieser Zeit entstanden nämlich mein
Weihnachts-Wichtelbild
für die Animexx.de-Wichtelaktion.
In December I was overwhelmed by the work for the dtv. The only picture I drew was my christmas-secret santa picture for the Secret Santa at Animexx.de.
Puh... ich hoffe, ich habe nichts wichtige vergessen :) E ist wirklich erstaunlich, wie schnell ein Jahr vergehen kann. Ich bin schon sehr gepannt, was mir das neue Jahr so bringen wird :D
Puh... I hope, I didn't forget something important :) It's really surprising how fast a year can go by. I'm already exited what the new year will have in store for me .D
Bye bye
Kathi